Burlesque Workshop in Amsterdam for YOUR (hen) party.
Embrace your womanhood and have fun with your girlfriends!

Information or bookings: Mail info@MadameRisquee.com

Fun filled Burlesque workshop where you can learn to tease like Dita von Teese,
pose like a (Bettie Page) pin-up girl, and be as sexy as Marilyn Monroe.

Discover the Diva, Femme Fatale, Bad Girl or Comedy Queen in yourself. You'll learn how to develop your burlesque alter-ego. At the end, you and your group will be a bonafide bevy of burlesque starlettes by putting on your own little burlesque show for each other. But during this workshop you also will get to know your friends (and yourself) a little bit better, all via humor and theatrical games. The main person (bachelorette, birthday girl) will be put in the centre of attention in a fun way.

There is no nudity during this burlesque workshop (unless you want to: we do have pasties/tassles and professional glue etc. available). It's not just about striptease or only a choreography. The teacher who is also a drama teacher, burlesque starlet and comedienne, uses the burlesque theme for a series of fun practices. It's not about how to tease a man, but about celebrating your femininity and having fun with your girlfriends!
You could bring: showclothing (clothing that makes you feel sexy) or easy fitting clothing, We have large feathered fans, hats, gloves, lace umbrellas etc. for you to use (borrow).

Price for the Burlesque Workshop is 35- Euro Per person
including glass of Prosecco and fingerfood. (minimum 8 persons)

Location shown on this page is at the edge of Amsterdam's Red Light District nearby Central Station. Part of world heritage site: Seventeenth-Century Canal Ring Area of Amsterdam.

This Art Deco night club including small stage is perfect for a ' FUN' workshop
and excellent for your snapshots!
Available every afternoon until 5 pm. (Dinner Show available from 7 pm)
Alternative location after 5 is available too.
All our teachers have been involved in the neo-burlesque movement for many years.

They are professional performers and experienced teachers.

Burlesque workshop .com is since 2008 the very first provider of this kind of workshop in the Netherlands.

"This is the real deal."
Also possible:
-Celebrate your femininity workshop
-Strip & Tease workshop
-Dr. Sketchy's
(Burlesque/pin-up drawing event)
-Workshop in Rotterdam
or at own location
- Boylesque workshop
-For mixed groups, youth (16+)
and older folks.

TIP!

Burlesque Dinner Show
at same location

Friday and Saturday evening Burlesque dinner show starts at 19.30 - 3-course menu incl welcome Prosecco.

There is a discount if you book the workshop and dinner show!
More information or bookings: Mail info@MadameRisquee.com or call +31 620750027

Looking for burlesque acts to book: www.MadameRisquee.com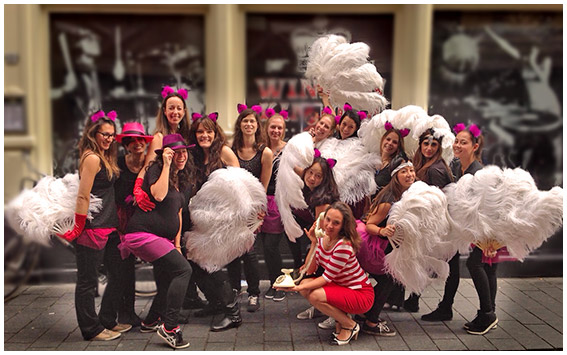 Quotes:
"Super thanks for this workshop! Everyone enjoyed and participated very well.
The teacher is a wonderful lady who -indeed- put every participant at ease,
she had a role for every character/type of girl.
Lovely interactive workshop for groupbonding.
The fingerfood was a nice and tasty surprise!
And last but not least: The love-shower...yes: tears of happiness rolled over the cheeks.
SO it was a success!
We entered the room like a girl and we left like vamp ;) "
The KittyKat girls (pic above)
"Because of the burlesque workshop we had a top-day.
The group was put at ease and that resulted in very funny scenes.
Compliments for the teacher and thanks!"
Jessica - hen party

"It was fun! Thank you for all your help. We were really pleased with the activity"
Kristen - producer British television programm "Coach Trip"
"It was very nice! the teacher knows how to break the tension with humor...I enjoyed the
workshop and I'm lookin' forward for another one, to integrate dancing, acting and havin fun...!"
Wendy (UK)

"Everybody enjoyed it very much, The teacher is a good coach and dancer!"
Jessy - just for fun workshop met girlfriends
"Thanks so much for the wonderful workshop. The teacher was excellent
and it was a good addition to our programm "
senior coördinator evenementen Leidse Museumnacht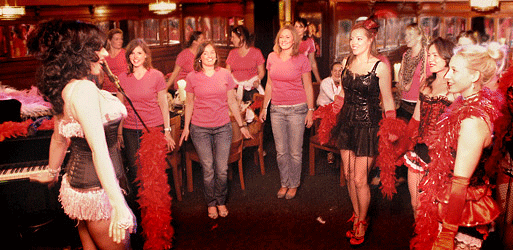 Snapshots
Also tailored workshops; at your own location, for large groups (ask for special deals!), school going youth (16-22) and mixed groups.

Burlesque Workshop is produced by:






Underneath a YouTube Channel with clips from Madame Risquée productions:
More information or bookings: Mail info@MadameRisquee.com
Site, photos, text and film © Madame Risquée :
More than a dozen copycats have stolen our texts in the past for use of their own 'burlesque workshop'.
But be aware there is a copy right law (auteursrecht)! One can not simply copy text and images from a site!